This week was a pretty big one for my comic book pull list, very heavy in Marvel Comics titles. As usual, I tend to gravitate towards indie publishers too, as well as cover variants and horror stories. Without further ado, here's this week's list.
Deadpool: Black, White & Blood #1 (of 5)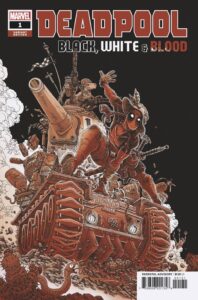 Publisher: Marvel Comics
Written by Tom Taylor, More
Art by James Stokoe, More
Cover art by James Stokoe
LIKE A CLASSIC BLACK & WHITE MOVIE, BUT WITH WAY MORE BLOOD!
What's black, white, and red all over? Three blood-drenched tales of violence and mayhem led by Marvel's Mirthful Mercenary himself, Deadpool! Do you want to see today's top talent take it to the hilt to bring you the wildest Wade Wilson adventures yet?! This is the book for you! It's as plain as black and white. And red.
Thoughts on Deadpool: Black, White & Blood #1
This is Deadpool. You're either going to like it or you're not. This one includes three different stories, each offering a different cover variant.
Elvira Meets Vincent Price #1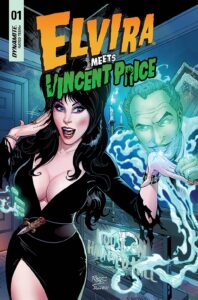 Publisher: Dynamite
Written by David Avallone
Art by Juan Samu
Cover art by John Royle
The two titans of horror and comedy untie in comics for the very first time! Dynamite Entertainment Proudly Presents… Elvira Meets Vincent Price!
Elvira is back, with her most historic AND greatest costar ever! The ghost of Vincent Price is a spirit with a mission, and only the Mistress of the Dark can help! The Apocalypse is coming, and it's going to be live-streamed for binge-watching, but a long-lost movie can save the world… if only the movie star specter and the horror hostess with the mostest can find it in time! Thrills, chills, and all sorts of terrible puns!
Issue #1 features an all-star cast of cover artists, including fan favorites Dave Acosta, John Royle, series artist Juan Samu and a stunning photo of the gorgeous lady herself – Elvira: Mistress of the Dark!
Thoughts on Elvira Meets Vincent Price #1
I've been looking forward to this series since it was announced. Hopefully, this is awesome as one would expect it to be. Review forthcoming.
Guardians of the Galaxy Annual #1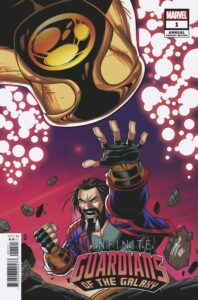 Publisher: Marvel Comics
Written by Al Ewing, Jed MacKay
Art by Flaviano, Juan Ferreyra
Cover art by Ron Lim
Hercules has always been known as the Prince of Power…that is until a younger prince showed up to out-muscle him! With the aid of an all-powerful Infinity Stone, even a complete idiot can develop the quads, delts, and abs of a Prince of Power…but why was it THIS idiot? Focus on your core, True Believers – the answers will shock you to it!
ALSO IN THIS ISSUE: Part 6 (of 8) of "Infinite Fury"!
Thoughts on Guardians of the Galaxy Annual #1
I mainly picked this one up for the "Infinite Fury" story which is spanning eight different "Infinite Destinies" comic book releases. Guardians of the Galaxy is usually good for a laugh though, so I'm sure that it won't disappoint.
Horizon Zero Dawn #1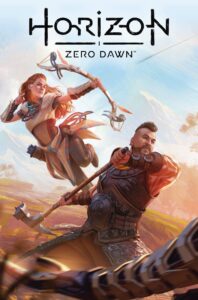 Publisher: Titan Comics
Written by Anne Toole, Ben McCaw
Art by Elmer Damaso
Cover art by Adrian Wilkins
TITAN'S SMASH-HIT COMIC SERIES IS BACK FOR A SECOND ARC!
Critically acclaimed original creative team return for a new chapter in the story of Aloy and Erend! Fending off deadly machines, the pair hunt down the killer of a member of the Oseram tribe!
Over 80,000 copies sold on #1 – 11th bestselling comic of August 2020!
The new game Horizon Forbidden West is coming to PlayStation in 2021!
Thoughts on Horizon Zero Dawn #1
Okay, I'm not really sure what this one is all about. My son picked it up and it's related to a video game, but unfortunately, this old man isn't playing many video games these days. It looks like there is a board game version of Horizon Zero Dawn though (affiliate link), so maybe that's one I can check out.
Shadowman (2020) #4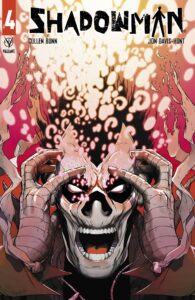 Publisher: Valiant Entertainment LLC
Written by Cullen Bunn
Art by Jon Davis-Hunt
Cover art by Jon Davis-Hunt
Masters of Horror Cullen Bunn and Jon Davis-Hunt bring Shadowman's descent into the darkness of London.
What's your darkest secret worth?
Danger is a drug and it's deep in the veins of mankind. Shadowman's on a quest to find the source of his hallucinations and Jack has less control than he once thought. The worst has happened…Deadside has arrived!
Thoughts on Shadowman #4
As you can probably see, I gravitate towards a certain kind of comic book, and Shadowman fits right in there. I'll drop a review of issues #1-4 once I get them all read.
Spirits of Vengeance: Spirit Rider #1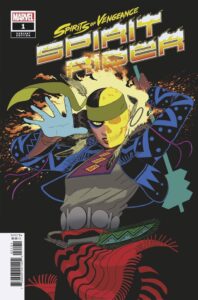 Publisher: Marvel Comics
Written by B. Earl
Art by Paul Davidson, Jeffrey Veregge
Cover art by Javier Rodriguez
SHE'S LIKE NO GHOST RIDER YOU'VE EVER SEEN!
SHE IS KUSHALA – A SORCERER SUPREME, A SPIRIT OF VENGEANCE…AND THE SAVIOR OF JOHNNY BLAZE'S SOUL!
Blaze has been through a lot lately, from ascending the throne of Hell to nearly murdering his former allies on the Avengers. But his nightmare is far from over. Something – or someone – is haunting him, and only a Ghost Rider with the powers of a Sorcerer Supreme can find out why. The dynamic writing duo of Taboo (of the Black Eyed Peas) and B. Earl expand the Rider mythos with an action-packed special that will kick off a brand-new era of vengeance! Kushala's about to be the hottest thing in hell.
Thoughts on Spirits of Vengeance: Spirit Rider #1
Ghost Rider doesn't get enough love outside of the comic book world, so we'll take what we can get inside the comic book realm. This one sounded interesting, so let's see where it leads.
The Me You Love in the Dark #1 (of 5)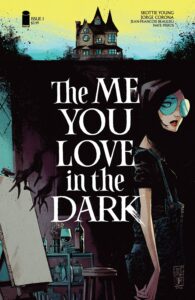 Publisher: Image Comics
Written by Skottie Young
Art by Jorge Corona
Cover art by Jorge Corona
Writer SKOTTIE YOUNG (I HATE FAIRYLAND, Deadpool, Strange Academy) and artist JORGE CORONA (NO. 1 WITH A BULLET, Super Sons, Feathers) follow up their critically acclaimed series MIDDLEWEST with a brand-new haunting tale.
An artist named Ro retreats from the grind of the city to an old house in a small town to find solace and inspiration without realizing the muse within is not what she expected.
Fans of Stephen King and Neil Gaiman will enjoy this beautiful, dark, and disturbing story of discovery, love, and terror.
Thoughts on The Me You Love in the Dark #1
The synopsis of this series sounded interesting and I'm always up for a good horror story. Lately, the genre is hit-or-miss though, so I'll have to give my thoughts after I've read it.
X-Men #2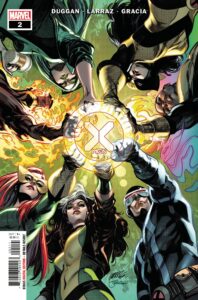 Publisher: Marvel Comics
Written by Gerry Duggan
Art by Pepe Larraz
Cover art by Pepe Larraz
ALWAYS BET ON X!
As threats hurtle toward the Earth from all sides, the fearless X-Men fight a seemingly unstoppable wave of annihilation…but even more dangerous threats lurk in the darkness, ready to strike in secret.
Thoughts on X-Men #2
I've not read a new X-Men story in a number of years, but I decided to pick up this series when it hit shelves last month.