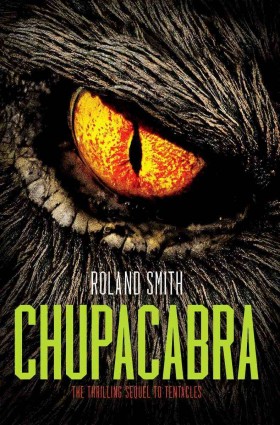 1) Chupacabra
CHUPACABRA, the riveting sequel to TENTACLES and CRYPTID HUNTERS, reunites Marty and his unusual uncle, cryptozoologist Travis Wolfe, as they search the world for Wolfe's daughter, Grace. Grace has been kidnapped by her grandfather, the ruthless and dangerous Noah Blackwood, who has also stolen the two dinosaur hatchlings Wolfe was raising in secrecy. Now, with word that the mysterious creature known as Chupacabra has been sighted again, Wolfe is torn between his obsession with finding cryptids and his desperate need to rescue his daughter. With trouble at every turn and a dangerous journey ahead, will Marty and Wolfe come face-to-face with the mythic monster? Even more frightening, will they reach Grace before it's too late?
Author: Roland Smith ♦ Hardback: 336 pages ♦ List Price: $16.99 ♦ Publisher: Scholastic Press (September 24, 2013) ♦ ISBN-13: 978-0545178174 ♦ Buy From Amazon.com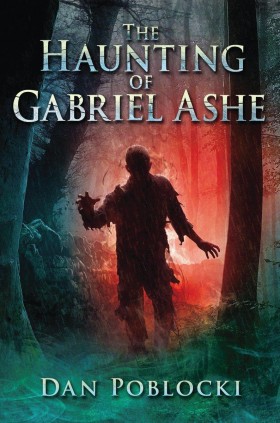 2) The Haunting of Gabriel Ashe
Has Gabriel created a monster?
Gabe and Seth used to play make-believe games in the woods behind Seth's family farm. It was the perfect creepy landscape for imagining they were up against beasts and monsters and villains.
Just as Gabe's decided he's outgrown their childish games, though, it appears that their most monstrous creation could be real.
Is there a ghoulish man-eating creature prowling the woods for victims? Or is Seth just determined to make Gabe think so–no matter who gets hurt in the process?
Gabe's not sure which answer would prove more unsettling, but he's determined to learn the truth.
Author: Dan Poblocki ♦ Hardback: 288 pages ♦ List Price: $16.99 ♦ Publisher: Scholastic Press (July 30, 2013) ♦ ISBN-13: 978-0545402705 ♦ Buy From Amazon.com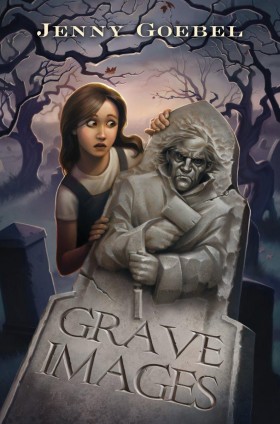 3) Grave Images
A stylish debut mystery with the perfect balance of sweetness and scares!
Thirteen-year-old Bernie's summer is looking pretty grim. It's hard to make friends when your family runs a monument company, and your backyard is littered with tombstones. It's even harder when your mother suddenly refuses to leave her room…
To make matters worse, her father has just hired a new artist to engrave the headstones–the creepy Mr. Stein. Bernie has a bad feeling about him right from the start, and after snooping around his cottage, she discovers an engraved portrait of their neighbor…a woman who promptly dies the next day. And it's not just a weird coincidence. The pattern continues, and Bernie realizes that Mr. Stein has begun engraving headstones before people die, which forces Bernie to ask a horrifying question: Is Mr. Stein predicting the deaths…or causing them?
Author: Jenny Goebel ♦ Hardback: 208 pages ♦ List Price: $16.99 ♦ Publisher: Scholastic Press (October 29, 2013) ♦ ISBN-13: 978-0545519304 ♦ Buy From Amazon.com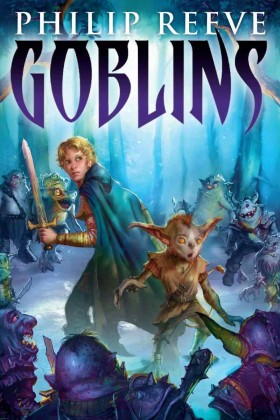 4) Goblins
The squabbling goblins that live in the great towers of Clovenstone spend their time fighting and looting. Only clever young Skarper (who happens to be in exile) understands that dark magic created by a vanquished sorcerer is rising again. With the help of a wannabe-hero, a middle-aged princess, and a few bumbling wizards, Skarper must fight to save their world.
Author: Philip Reeve ♦ Hardback: 352 pages ♦ List Price: $17.99 ♦ Publisher: Scholastic Press (August 27, 2013) ♦ ISBN-13: 978-0545222204 ♦ Buy From Amazon.com
5) Graveyard Shift
When Ben Harvester meets the mysterious Mr. October in London's Highgate Cemetery, he has no idea what a strange and dramatic turn his life is about to take. But he soon discovers that Mr. October works for the Ministry of Pandemonium, a secret organization responsible for guiding the spirits of the dead to the afterlife. And Mr. October wants Ben to be his new recruit!
It's not a typical after-school job, but Ben embraces it. Visiting the crime scenes and accident sites and the solemn hospital corridors where lost souls wander, Ben's eyes are opened to a world of magic and wonder. But his eyes open on horror, too. Because the Ministry is not the only group interested in tracking down lost souls. The ghouls and demons known the Lords of Sundown are harvesting souls for their own sinister purpose. And they don't look kindly on those who stand in their way. . . .
Author: Chris Westwood ♦ Hardback: 304 pages ♦ List Price: $17.99 ♦ Publisher: Scholastic Press (July 2012) ♦ ISBN-13: 978-0545399197 ♦ Buy From Amazon.com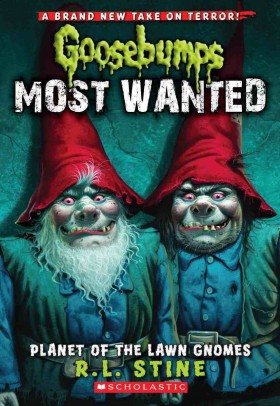 6) Goosebumps Most Wanted #1: Planet of the Lawn Gnomes
Catch the most wanted Goosebumps characters–undead or alive!
The infamous, Most Wanted Goosebumps characters are out on the loose and they're coming after you! There is no place to hide. Nothing is safe!
Jay Gardner is a mischievous kid who can't stay out of trouble. Unfortunately, Jay gets in so much trouble, his family is forced to move. The new neighborhood offers Jay a chance at a fresh start. But there's something odd about Jay's new town. Why does everyone have lawn gnomes in front of their homes? And why is everyone afraid to go outside at night? The lawn gnomes don't come to life at night-do they? Jay is about to learn that mischief can quickly turn to horror.
Author: R.L. Stine ♦ Paperback: 160 pages ♦ List Price: $6.99 ♦ Publisher: Scholastic Paperbacks (October 2012) ♦ ISBN-13: 978-0545417983 ♦ Buy From Amazon.com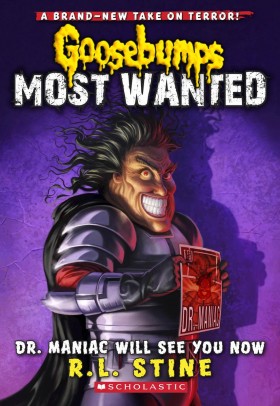 7) Goosebumps Most Wanted #5: Dr. Maniac Will See You Now
The infamous Most Wanted Goosebumps characters are out on the loose, and they're coming after you! Catch them all, undead or alive!
The Most Wanted list continues with Dr. Maniac, the strangest doctor of them all. When a group of comic book characters appear in the real world, twelve-year-old Richard Dreezer must track down Dr. Maniac to save the day. Straight from the comic book of your worst nightmares, this evil genius will make sure you leave sicker than when you arrived.
Author: R.L. Stine ♦ Hardback: 160 pages ♦ List Price: $6.99 ♦ Publisher: Scholastic Paperbacks (September 24, 2013) ♦ ISBN-13: 978-0545418027 ♦ Buy From Amazon.com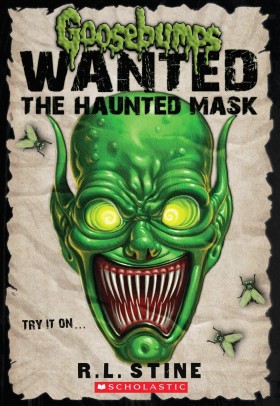 8) Goosebumps Wanted: The Haunted Mask
GOOSEBUMPS WANTED: THE HAUNTED MASK, two spookily linked Halloween stories-now in paperback!
From horror master R.L. Stine come two new chilling stories in one spooky stand alone:
Lu-Ann Franklin usually loves Halloween. Not this year. Her best friend, Devin O'Bannon, is going away for the week. And she has to go to a boring party where nothing exciting could ever happen. But when Lu-Ann comes face-to-face with The Haunted Mask, major trouble lies ahead.
Devin O'Bannon didn't want to leave his best friend Lu-Ann Franklin behind on Halloween. He didn't ask to go on this trip. And that was before he heard the strange scratching on his windows and saw the shadows moving around in the fields. Something is out there and it doesn't seem to want Devin around!
Author: R.L. Stine ♦ Paperback: 240 pages ♦ List Price: $6.99 ♦ Publisher: Scholastic Paperbacks (June 25, 2013) ♦ ISBN-13: 978-0545417976 ♦ Buy From Amazon.com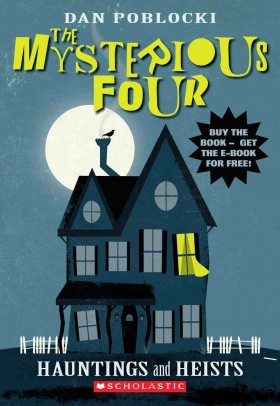 9) The Mysterious Four #1
Welcome to Moon Hollow, where mystery lurks around every corner–and four kids have come together to solve crimes and puzzles big and small.
Whether they're debunking sea monsters, thwarting bullies, or revealing who threw out mom's asparagus, Viola, Sylvester, Rosie, and Woodrow will figure out the truth in six clues or less. And readers are invited to guess alongside them each step of the way.
Author: Dan Poblocki ♦ Paperback: 176 pages ♦ List Price: $5.99 ♦ Publisher: Scholastic Inc. (May 2011) ♦ ISBN-13: 978-0545299800 ♦ Buy From Amazon.com
10) The Raven Boys (The Raven Cycle #1)
It is freezing in the churchyard, even before the dead arrive.
Every year, Blue Sargent stands next to her clairvoyant mother as the soon-to-be dead walk past. Blue herself never sees them-not until this year, when a boy emerges from the dark and speaks directly to her.
His name is Gansey, and Blue soon discovers that he is a rich student at Aglionby, the local private school. Blue has a policy of staying away from Aglionby boys. Known as Raven Boys, they can only mean trouble.
But Blue is drawn to Gansey, in a way she can't entirely explain. He has it all-family money, good looks, devoted friends-but he's looking for much more than that. He is on a quest that has encompassed three other Raven Boys: Adam, the scholarship student who resents all the privilege around him; Ronan, the fierce soul who ranges from anger to despair; and Noah, the taciturn watcher of the four, who notices many things but says very little.
For as long as she can remember, Blue has been warned that she will cause her true love to die. She never thought this would be a problem. But now, as her life becomes caught up in the strange and sinister world of the Raven Boys, she's not so sure anymore.
Author: Maggie Stiefvater ♦ Hardback: 416 pages ♦ List Price: $18.99 ♦ Publisher: Scholastic Press (September 18, 2012) ♦ ISBN-13: 978-0545424929 ♦ Buy From Amazon.com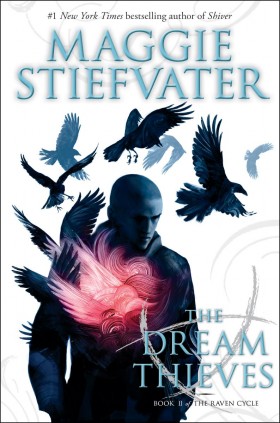 11) The Raven Boys: The Dream Thieves (The Raven Cycle #2)
The second installment in the all-new series from the masterful, #1 NEW YORK TIMES bestselling author Maggie Stiefvater!
Now that the ley lines around Cabeswater have been woken, nothing for Ronan, Gansey, Blue, and Adam will be the same. Ronan, for one, is falling more and more deeply into his dreams, and his dreams are intruding more and more into waking life. Meanwhile, some very sinister people are looking for some of the same pieces of the Cabeswater puzzle that Gansey is after….
Author: Maggie Stiefvater ♦ Hardback: 416 pages ♦ List Price: $18.99 ♦ Publisher: Scholastic Press (September 17, 2013) ♦ ISBN-13: 978-0545424943 ♦ Buy From Amazon.com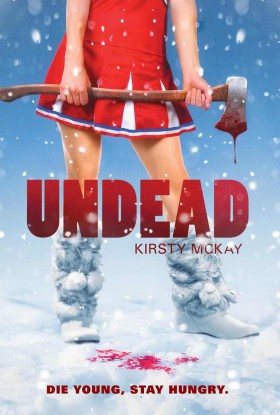 12) Undead
The day of the ski trip, when the bus pulls up at a roadside restaurant, everyone gets off and heads in for lunch. Everyone, that is, except the new girl, Bobby, who stays behind with Smitty, the class bad boy.
Then hours pass. As the snow piles up and darkness falls, Bobby and Smitty begin to worry. Until they finally see the other kids heading back.
But they've changed. And not in a good way. Yeah, they're zombies. And the doors to the bus are all that stand between Bobby and Smitty becoming their next meal!
The chill of The Shining, the thrill ride of Speed, the humor of Shaun of the Dead, and the angst of The Breakfast Club! It's a bloody mad mash-up, a school-trip splatter-fest, a funny, gory, frighteningly good debut!
Author: Kirsty McKay ♦ Hardback: 272 pages ♦ List Price: $17.99 ♦ Publisher: Chicken House (September 1, 2012) ♦ ISBN-13: 978-0545381888 ♦ Buy From Amazon.com
13) Unfed
Fresh meat! From a hospital of horrors to a runaway zombie train, it's an all-new onslaught of the slavering undead in the sequel to Kirsty McKay's killer debut!
Just when you think you're out…it's the morning after the night of the return of the living dead?! Or something like that. After running/bus-driving/snowboarding for her life alongside rebel Smitty, geeky Pete, and popular Alice, Bobby thought she'd found the antidote to the Carrot Man Veggie Juice that had turned the rest of their classmates into zombies. She'd pumped it into Smitty herself after he got chomped! (Mmm…nom…nom…)
But now he's missing. What if he isn't cured after all? Bobby knows she's got to find him, even if it means facing Scotland's zombie-plagued highlands–not to mention Alice's buckets of snark–again. And this time, the zombies aren't the only evil chasing her. The brain-dead are bad enough, but how can she stop the big pharma business behind the epidemic? Especially when her mom works for the company?!
Author: Kirsty McKay ♦ Hardback: 288 pages ♦ List Price: $17.99 ♦ Publisher: Chicken House (August 27, 2013) ♦ ISBN-13: 978-0545536721 ♦ Buy From Amazon.com