If you're anything like me, you probably enjoy a good tale of terror now and then, but don't always have the time to sit down and read the latest Stephen King or Dean Koontz novel. For this very reason I am quite fond of the horror anthology genre. In the past few months Skyhorse Publishing has released three such titles, all of which I've had the opportunity to take in and enjoy. If you're looking to spook yourself a bit this fall, check out these three books: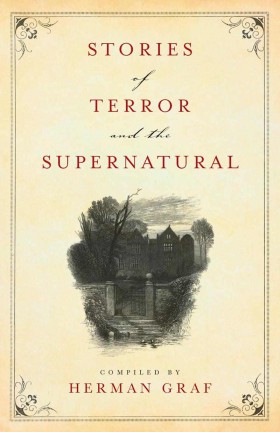 Stories of Terror and the Supernatural
Bone-chilling tales from some of the greatest literary minds in history.
Ghosts, murder, demonic possession, and psychological torment: these are just some of the subjects taken up by the unparalleled writers in this superb collection. Lovers of the supernatural will discover the true masters of the genre, and readers of classic literature will discover another side of their favorite Victorian, French, and American authors. In "La Grande Bretèche" by the great French nineteenth-century writer Honoré de Balzac, a doctor discovers an abandoned manor with a disturbing history. Victorian master Thomas Hardy's "The Three Strangers" proves just how hard it is to judge a man's character, even when a life is at stake. In Robert Louis Stevenson's exciting and suspenseful trilogy "The Suicide Club," a detective delves into a dark association whose members are intent on losing their lives. And in "Green Tea," by the incomparable ghost-story writer Sheridan Le Fanu, a detective of the occult investigates the case of a clergyman haunted by a demon in the form of an ethereal monkey. This chilling collection also includes stories by:
Edgar Allan Poe
Henry James
Willa Cather
Charles Dickens
Guy de Maupassant
Rudyard Kipling
Nathaniel Hawthorne
Charlotte Brontë
And more
Author: Herman Graf (Compiled by) ♦ Paperback: 432 pages ♦ List Price: $14.95 ♦ Publisher: Skyhorse Publishing (September 3, 2013) ♦ ISBN-13: 978-1626362543 ♦ Buy From Amazon.com
Zombies!: Tales of the Walking Dead
From master editor of horror anthologies Stephen Jones comes this collection of twenty-six stories to make your skin crawl. Within this terrifying tome, you'll discover classic tales of the macabre, memorable yarns culled from the pages of pulp magazines, original stories by some of the greatest minds in horror, and two novellas not published anywhere else. Living corpses intervene in a production of Twelfth Night. An undead suitor pursues his beloved. Desperate mortals fight to survive a night of the undead. It's all inside. And it's coming for you.
Zombie tales by:
Clive Barker
Robert Bloch
Ramsey Campbell
H. P. Lovecraft
Joe R. Lansdale
J. Sheridan Le Fanu
Edgar Allan Poe
And many more
Fans of The Walking Dead and World War Z, brace yourselves. These phenomenal stories from horror masters will get inside your head and leave you wanting more.
Author: Stephen Jones (Edited by) ♦ Paperback: 624 pages ♦ List Price: $14.95 ♦ Publisher: Skyhorse Publishing (June 1, 2013) ♦ ISBN-13: 978-1620876510 ♦ Buy From Amazon.com

Paranormal Crime Stories That Just Might Kill You
Eighteen of the spookiest, strangest, most bone-chilling paranormal crime stories of all time!
Welcome to the most massive, monumental volume of paranormal crime stories by bestselling fiction writers ever compiled. Featuring everything from supernatural con artists and shape-shifters to werewolves and motorcycle-riding ninja rats, these gripping tales of magic, murder, and suspense are sure to send a shiver up the spine of any fan of ghost stories or crime fiction. If it's creepy and mysterious, it's in here. Included are works by:
Anne Perry
Kelley Armstrong
Patricia Briggs
Simon R. Green
Steve Perry
And many more!
Compiled and edited by the world's most prolific anthologist—the award-winning Martin H. Greenberg—this is the biggest paranormal crime book on the market and the ultimate collection for crime lovers, ghost hunters, and thrill seekers everywhere. Also included are multiple stories from New York Times bestsellers and an introduction by renowned author of paranormal fiction John Helfers.
Author: Martin H. Greenberg (Edited by) ♦ Paperback: 512 pages ♦ List Price: $14.95 ♦ Publisher: Skyhorse Publishing (September 3, 2013) ♦ ISBN-13: 978-1626361560 ♦ Buy From Amazon.com