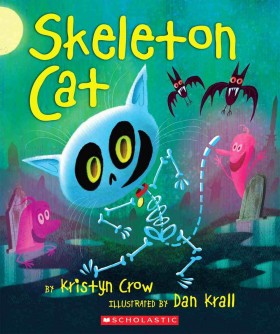 Skeleton Cat
After nine lives, Skeleton Cat is back for his tenth. And he has big dreams: to be a drummer. So he rattles and shakes his way through town to find the perfect band. And this phantom cat cause quite a hilarious scene.
Kristyn Crow's punchy beat, rollicking action, and clever rhyme paired with Dan Krall's ghoulishly charming art makes Skeleton Cat a perfect, catchy read-aloud for all ages.
Author: Kristyn Crow ♦ Paperback: 32 pages ♦ List Price: $6.99 ♦ Publisher: Scholastic Press (July 2012) ♦ ISBN-13: 978-0545153850 ♦ Buy From Amazon.com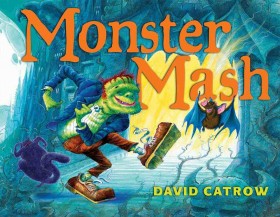 Monster Mash
The "Monster Mash" gets Wolf Man, zombies, and other monsters to dance and party in this catchy, classic song. Dracula rises out of his coffin, vampires feast in the master bedroom, and the ghouls get a jolt from Boris's electrodes.
This "graveyard smash" caught on in a flash, and it became the hit of the land. The song, written in 1962 by Bobby "Boris" Pickett and Lenny Capizzi, has gone on to sell over 4 million copies. Fifty years later, David Catrow takes it to new heights as a picture book, with his fun and wacky illustrations that are sure to get kids singing and "mashing" along.
Author: David Catrow ♦ Hardback: 40 pages ♦ List Price: $16.99 ♦ Publisher: Orchard Books (July 2012) ♦ ISBN-13: 978-0545214797 ♦ Buy From Amazon.com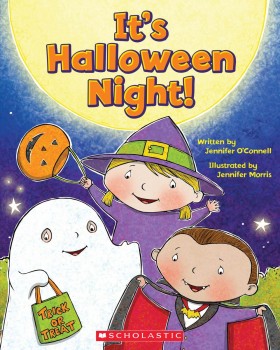 It's Halloween Night!
It's Halloween night and the moon shines bright.
We run through the gate and can hardly wait!
We ring the bell and then we yell…
TRICK OR TREAT!
Before Halloween night begins, everyone should have their costumes ready! Join a creative group of trick-or-treaters as they give each other hints about what they'll be for Halloween!
This delightful story written by the best-selling author of TEN TIMID GHOSTS, Jennifer O'Connell, and illustratred by the best-selling creator of MAY I PLEASE HAVE A COOKIE, Jennifer E. Morris, has the makings of a Halloween classic!
Author: Jennifer Barrett O'Connell ♦ Paperback: 32 pages ♦ List Price: $6.99 ♦ Publisher: Cartwheel Books (July 2012) ♦ ISBN-13: 978-0545402835 ♦ Buy From Amazon.com

Spooky Friends
Can a vampire and a mummy learn to share?
Scarlet is a feisty little Vampire, and her best friend, Igor, is a roly-poly little Mummy. Together, they star in three humorous, heartwarming stories about two friends who never agree on anything. That is–until they discover different ideas can become even better ideas when they cooperate!
Author: Jane Feder ♦ Paperback:40 pages ♦ List Price: $3.99 ♦ Publisher: Scholastic Press (July 30, 2013) ♦ ISBN-13: 978-0545478168 ♦ Buy From Amazon.com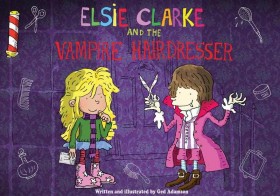 Elsie Clarke and the Vampire Hairdresser
Elsie hates getting her haircut. There's absolutely nothing more terrifying for her. "They squirt you and they pull and they snip!" she cries in her most horribly loud voice. "I'm never going again. EVER!"
But after some coercion from her parents, Elsie reluctantly tries a new hairdresser named Boris Lazzario. Almost immediately, Boris is eager to cut her hair, but then learns of her fear. Reassuringly, Boris explains that his father, Count Lazzario, also dreads haircuts and is unhappy by Boris's profession Boris. When confronted with the mean Count Lazzario, Elsie learns that she must be brave, in the end, both she and the count learn that haircuts are not so scary after al.
With playful text and distinct illustrations, this story will surely improve any child's perception on those dreaded haircuts!
Author: Ged Adamson ♦ Hardback: 28 pages ♦ List Price: $16.95 ♦ Publisher: Sky Pony Press (September 3, 2013) ♦ ISBN-13: 978-1620879832 ♦ Buy From Amazon.com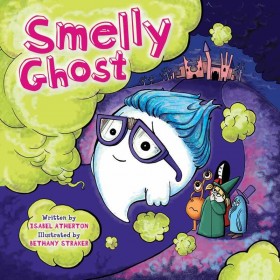 Smelly Ghost
In Spooky Town, there live many ghosts, ghouls, skeletons, and scary creatures. However, none of these creepy characters wants to play with a particular ghost—Smelly Ghost. The reason is simple: Smelly Ghost only consumes frightening junk food. He devours bone chips, chocolate toes, and eyeball pizza. Sadly, these foods make his tummy growl and yell—keeping everyone far, far away. Devastated, Smelly Ghost wonders why no one wants to be his friend.
One day, Janice the mummy-cleaner suggests to Smelly Ghost that perhaps he try eating some creepy vegetables and spine-chilling fruit. What does he have to lose? He eagerly begins to munch on ghoul carrots and to nibble on slime bananas. And in the process, Smelly Ghost starts to feel more energetic and even floats higher and faster. Slowly but surely, the other Spooky Town inhabitants creep back toward Smelly Ghost, and he is soon playing with them every day. Smelly Ghost is an entertaining book that also encourages children to eat healthy, promoting not only a nutritious diet but also a healthy body and mind.
Author: Isabel Atherton, Bethany Straker (Illustrated by) ♦ Hardback: 32 pages ♦ List Price: $14.95 ♦ Publisher: Sky Pony Press (September 10, 2013) ♦ ISBN-13: 978-1620879894 ♦ Buy From Amazon.com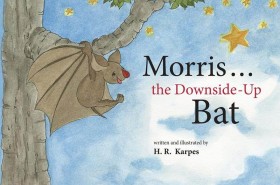 Morris…the Downside-Up Bat
Morris likes to hang by his hands instead of by his feet, so everyone thinks he's positively batty. Morris doesn't care: When he hangs from his hands, he can fool owls, catch flying snacks, and—most importantly—watch music programs on TV. Inspired by his favorite television shows, Morris reinvents his image with a rocker hairdo, funky costumes, and a sweet guitar. When he hears about an upcoming talent show, Morris is ecstatic. But bat bullies guard the submission box and tell Morris he can't be in the talent show if he can't even hang right-side up. Will Morris convince the bullies of the benefits of downside-up hanging? And will he be able to take the stage as "Morris the Magnificent"?
Morris, the Downside-Up Bat is a charming story for young readers and their parents. Both children and adults will love Morris's spunk and the way this little bat never lets go of his implausible rock 'n' roll dream. H. R. Karpes has created a fun, relatable celebration of individuality sure to delight readers of all ages.
Author: H. R. Karpes ♦ Hardback: 32 pages ♦ List Price: $11.95 ♦ Publisher: Sky Pony Press (October 1, 2013) ♦ ISBN-13: 978-1620879870 ♦ Buy From Amazon.com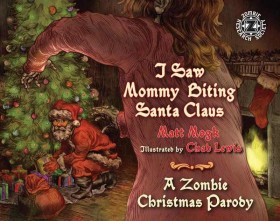 I Saw Mommy Biting Santa Claus: A Zombie Christmas Parody
I Saw Mommy Biting Santa Claus is a new spin on a holiday classic that tells the story of a suburban zombie outbreak and the little boy who knows just what to do. When Johnny finds out that his mother has turned into a zombie and has attacked Santa Claus, he knows that it's up to him to put the living dead (back) to rest.
While the chaos spreads from the mall to the Christmas parade, Johnny finds his friends Glenn, Barb, and Ben, and they devise a plan to not only protect themselves—and their dog—but to make sure to get to Grandma's house before the zombies take over town. While they've planned for the worst, nothing could prepare them for watching jolly old Saint Nick get devoured by mindless zombies.
This clever take on a Christmas tradition is right up the alley of anyone who ever wondered what would happen if a zombie outbreak took place during the holiday season. I Saw Mommy Biting Santa Claus is a beautifully gory tale that's sure to become a classic for fans of the holidays and the living dead.
Author: Matt Mogk, Chad Lewis (Illustrated by) ♦ Hardback: 48 pages ♦ List Price: $19.95 ♦ Publisher: Skyhorse Publishing (October 8, 2013) ♦ ISBN-13: 978-1626360327 ♦ Buy From Amazon.com