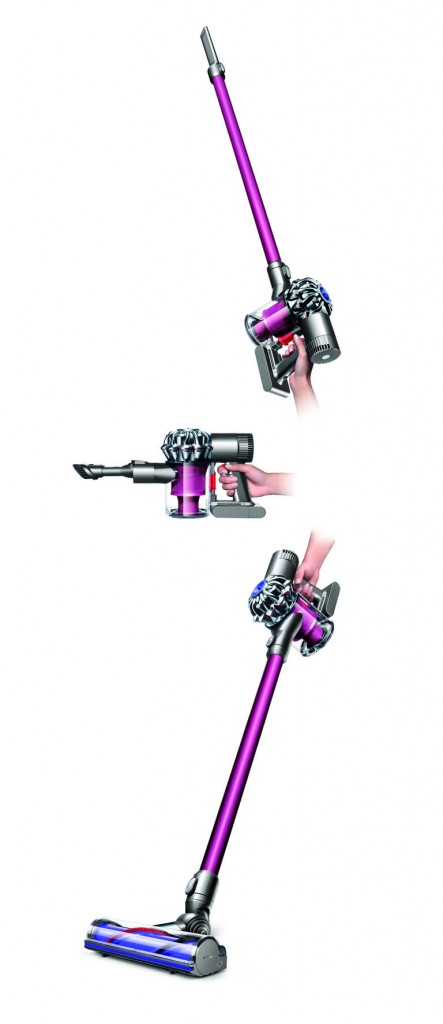 The kids are off to school again, and there you are, at home with a little cleanup work to do after the kids ran through the house with breakfast in hand, then dashed to the bus.
The cordless (yes, cordless) Dyson DC 59 Motorhead vacuum ($549.99, available at Dyson.com & Major Retailers) is there for you to clean up both the carpets AND the hard surfaces.
Having four kids, and their friends, constantly running through the house, my wife and I gave the vacuum a run through, and here are our thoughts, good and bad.
Dyson DC 59 Motorhead Pros
Cordless, lightweight and can be adjusted to handheld, or full length. We moved into a two story house a few years ago, and the task of vacuuming the stairs was not easy with a standard, corded, vacuum. With the DC59, that was simple, AND the kids can even do it as part of their chores.
EASY to clean. There are no bags to remember to buy, you just dump the canister when it is full. And if you sweep something up that you shouldn't have, it's easy to retrieve.
EASY to take apart and reassemble. Related to a con below, we had to take the DC 59 apart to remove a blockage. But that was very easy to do unlike any other vacuum I've used.
Dyson DC 59 Motorhead Cons
The batter life is low. If set on the normal setting, the battery is rated to 24 minutes of use. On max, I'm not sure how long it will last. If you have a decent sized house and want to clean every room, you're not going to be doing a marathon cleaning session.
No option to convert it to corded. I'm no engineer, but you would think Dyson would offer an option to use the DC 59 while plugged in as well.
Clogged easily. In our test it did clog fairly easily. But in all fairness, we were sweeping up things that we should have avoided.
Small canister. The canister fills up pretty quickly and needs to be emptied regularly. That's not a huge issue for me personally, but I can see others not liking that.
It is pricey. The DC 59 Motorhead is a VERY nice vacuum cleaner, and the price tag goes along with that. I can't say that I disagree with the price, but it will certainly make most people think long and hard about purchasing one.
Bottom line, the Dyson DC 59 Motorhead is an extremely nice vacuum unlike anything you've probably used before. But with the limited battery life, and the overall cost, you may want to look into one of the corded Dyson models if you have a decent sized house. For a small apartment, or a dorm room, the DC 59 would be perfect.
NOTE: From Indiana Chronicle's 2014 Back to School Guide.