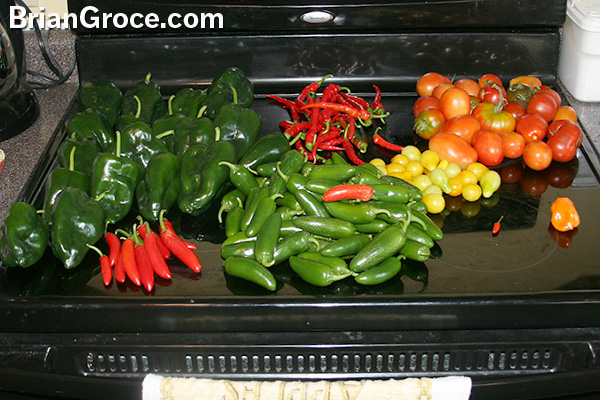 There is much to report on the garden since the last update, but I'll have to save those for another time.
However, tonight we picked quite a few peppers and a few tomatoes. Here's the rundown of that:
66 Jalapeno Peppers, weighing 31.35 ounces
25 Cayenne Peppers, weighing 4.80 ounces
18 Ancho Peppers, weighing 40.20 ounces
12 Red Serrano Peppers, weighing 3.10 ounces
2 Thai Peppers, a.k.a. "bird peppers" (that smallest pepper you see)
1 Habanero Pepper, weighing 0.30 ounces (gallons of these will be ready soon)
13 Bloody Butcher Tomatoes, weighing 19.05 ounces
14 Roma Tomatoes, weighing 23.60 ounces
20 Golden Pear Tomatoes, weighing 6.30 ounces
There are plenty of peppers and tomatoes already picked in the past week, so I'll probably be busy with those this weekend. I use a few the other day to make some hot sauce, so watch for that post soon.